Featured Item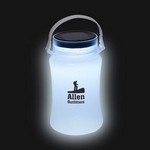 Foldable Waterproof Container w/Solar Li...
Foldable Waterproof Container w/Solar Powered Light is uniquely different! This floating, waterproof lantern is charged by solar and USB (cable included) . Light modes include normal bright, super bri...
$13.35 - $15.35
Welcome to Custom Impressions
Custom Impressions is your number one source for promotional advertising. We surpass the competition, in not only price, but value as well.
Who has time to shop the internet, browse direct mail catalogs and try to create an appropriate and concise product or program? Often you have to prepay. You send your logo and order off to somewhere unknown, and hope that it arrives on time, and correct!
Tell us your budget, quantity, deadline and audience and we'll provide the ideas. We will give you several ideas, tailored to your parameters, and you simply choose.
Or maybe you know just what you want. When you work with us, you know we'll provide the best pricing and service, that your order will be delivered on time, all without worry.
Give us a call today - 800-500-8044.
...where we do the work and you get the credit!
If you prefer to contact us via email, please select the "Contact Us" tab for our company directory.